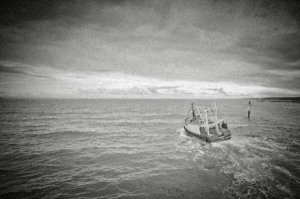 " [… ]
Farewell, farewell! but this I tell
To thee, thou Wedding-Guest!
He prayeth well, who loveth well
Both man and bird and beast.

[…]
¡Adiós!
¡Adiós!
¡Pero esto te digo,

a ti, invitado!
Reza bien quien bien quiere,
al hombre, al pájaro y a la bestia.
He prayeth best, who loveth best
All things both great and small;
For the dear God who loveth us,
He made an loveth all.

[…]"
Reza mejor quien mejor quiere
todas las cosas, grandes y pequeñas;
porque el Dios amado que nos quiere
creó y ama a todos"
[…]