(This article is dedicated to Miho, the teacher we had in Japanese cooking classes at the university, for sharing their knowledge with the whole class. Thank you.)
Hi folks!,
Today I publish a small article about an easy dish to make the Japanese tempura, or fried food pieces.
First of all, I tell you that even now to be known as a dish of Japanese cuisine, it seems to have European origin, specifically of the XVI century Portuguese missionaries in Asia. It is therefore not surprising that we are familiar with and has many similarities with the dish "calamares a la Romana", a very common dish in Mediterranean cuisine.What can be cooked tempura? First and foremost prawns, is essential. Also white fish, octopus, or squid is really good, as far as green vegetables, asparagus, peppers, carrots and greens, eggplant, beans, onions. Also, taking advantage of the kitchen mediterrania of here, you can make tempura with mushrooms. I like especially the Fredolic mushroom and ultimate in Japanese cuisine, the siitakes . The reason why meat is not included in this dish, can be historical, because the missionaries didn't cook meat during Lent.
It is a dish that although it is easy to perform, is very complex and each master of tempura kepts secret the exact proportions of flour, water, egg, oil temperature or water or the time required to fry each piece. It is an art.
An important feature of the tempura, is to savor the texture and rich flavor of the fried pieces, we must eating them as soon as they hot, with the tentsuyu sauce. Therefore, good kitchen tempura who can not sit with their guests.
¿ How do you prepare? Then I indicate you a recipe:
Tempura platter for 4 people:
1 egg
300 gr. flour
300 ml. cold water
20 prawns
1/2 red pepper
1/2 Eggplant
16 green asparagus
2 carrots
1/2 Turnip
Sunflower oil
Tentsuyu sauce:
200 ml.

tuna stock (Dashinomoto)

150 ml.

soy sauce

50 ml.

mirin
(Interactive photo!)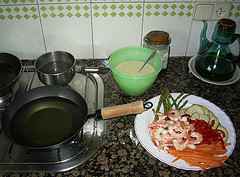 Preparación Tempura
Originally uploaded by lluisr.
Preparation:
Shrimp were removed from

the

head and leaving only the tail

skin.

If they are large prawns or shrimp, they remove

the central rib

with black. This is either a toothpick.
To

remove the hard stem asparagus

and

carrots,

then peel the top layer,

elongated slice

5-6 cm long. The

pepper

cut into

elongated pieces,

and finally, cut the

eggplant

into

thin slices.

Tempura paste,

as I said, every teacher has a different prescription. One easy is to

mix the water (cold!) with egg.

Then you add the

flour and stir gently,

without mixing too. No matter if it is a lump of flour. It is something like a thick milk.
Preparing the

tentsuyu

sauce

.

Mix the tuna broth, soy sauce and mirin in a saucepan and let boil for three minutes. Once past the three minutes, and prepared to leave in a bowl on the table and start cooking …
Now we are going to fry the ingredients. Place the wok (pan is used in Asia) or a deep saucepan

of sunflower oil in abundance

as a fryer. If you have olive oil don't worry, but its strong flavor will not appreciate the taste of the ingredients.
Wait until the oil is

170 degrees.

To find out, drop a drop of tempura dough into the pan, and if it falls and rises immediately without touching bottom, he's in his right temperature.
Fry

the vegetables first.

Put the vegetables into the pasta pot with tempura, is smeared all parts and will put five to five more or less in the

Wok.

It is important

not to put many pieces at once.

The cooking is quite fast, there is too much but not to fry the vegetables should be fresh.

Subsequently,

the pieces of

seafood and shrimp.

Same as above, rub them well in tempura dough and put in groups of five to fry.
The pieces have to pull from the wok to the table quickly, spread on the prepared sauce and enjoy this wonder.
Note:
You can reuse the head oil to fry other foods. Keep it in a container once it has cooled down and reuse.
New!:
Versions in order to have the recipe available at all times without being connected to the Internet (in spanish):